Next time you are in the MS/HS building, check out our main entry bulletin board! This is a place that staff students and community can write things that they appreciate about others here in the building! Please feel free to share things that you appreciate about a staff member or student! Thank you Mr. Boe and Ms. Doerder for the great idea! #FILLTHEBOARD #APPRECIATION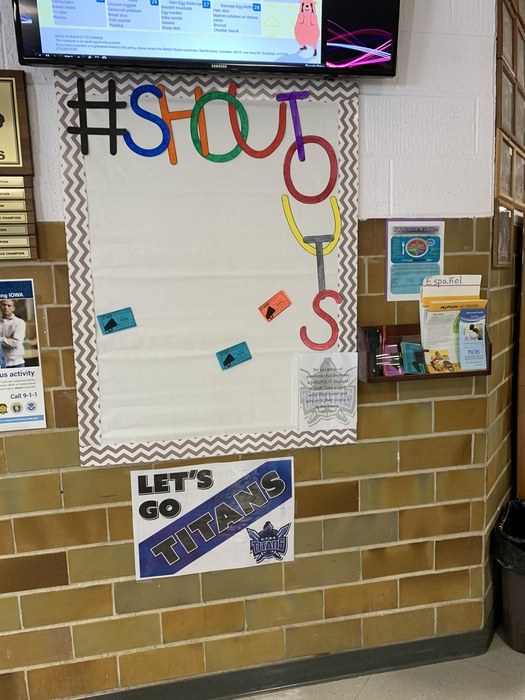 Students in Workplace Readiness played The Uber Game. The goal is to see if they can make it as an Uber driver in a big city with an upcoming mortgage payment. The students enjoyed learning about income fluctuation, costs of working and life decisions.
7th grades are acting out the play 12 Angry Men. They set up the classroom to look like the jury room and utilize the space according to the stage directions. As jurors start to become swayed, students analyze why they begin to change their minds due to evidence or lack of.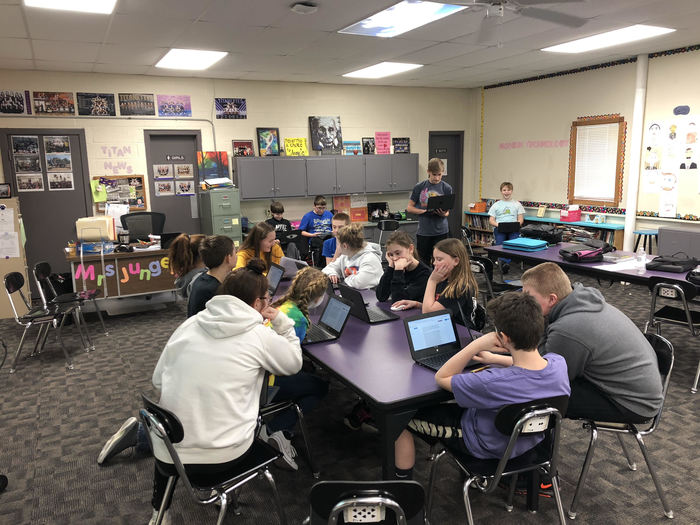 Students in Anatomy & Physiology researched diseases and conditions associated with the Skeletal System to present to the class. Pictured is senior Toni Alesch with her informative poster on Scoliosis.
The Sioux Central FFA Alumni have asked that we pass along some information. There will be a Pork Loin Meal available at Friday Nights Basketball Game. Please see the flyer for more information.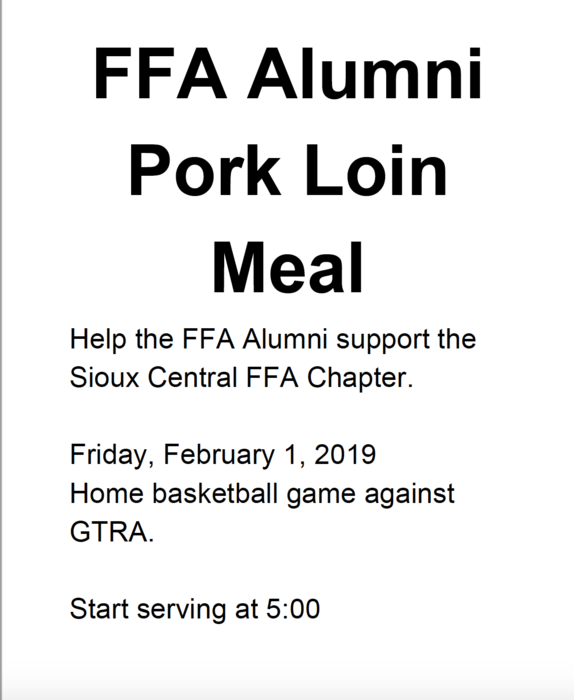 G-T will have a 2-Hour Late Start on Thursday, January 31.
No School at G-T on Tuesday, 1/29 and Wednesday, 1/30 due to the extreme wind chills.

All Junior High activities have been cancelled for this afternoon.
Graettinger-Terril CSD will start two hours late tomorrow, Monday, January 28th.

Water Emergency has been reinstated for the City of Graettinger. Water off east of tracks everyone else please conserve.

Water is back on in Graettinger. Boil advisory east side of tracks until further notice.

Today (Sunday) The city of Graettinger is in a water emergency. EVERYBODY must conserve water. Water will be shut off east side of the railroad tracks. There will be a water boil to follow. As we get more information, we will post it.

Today was an exciting day as the FFA chapter posed in front of the school for this years chapter photos! Students braved the freezing temperatures to get some great shots!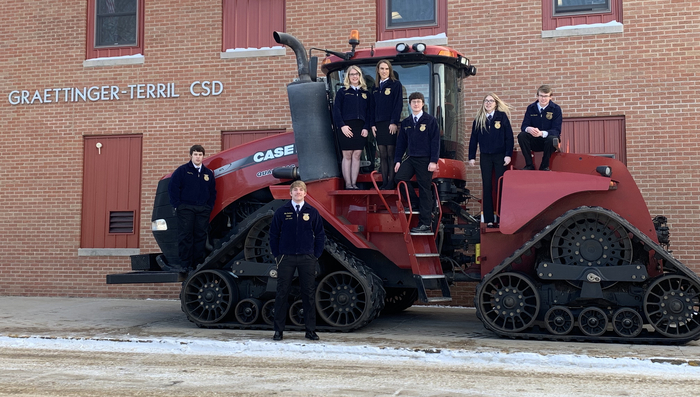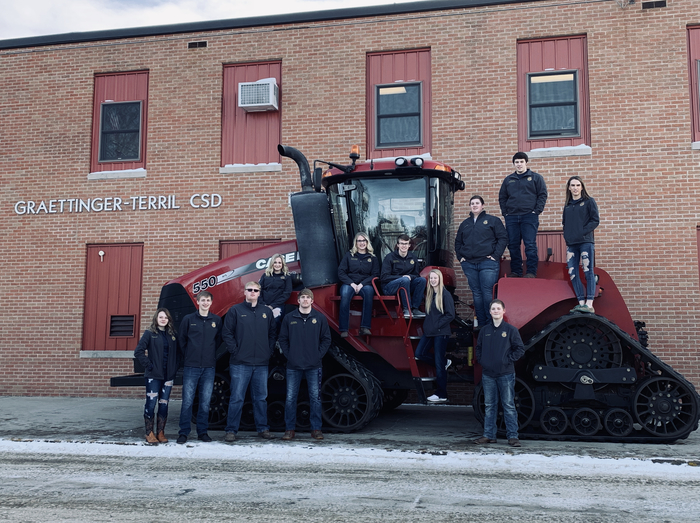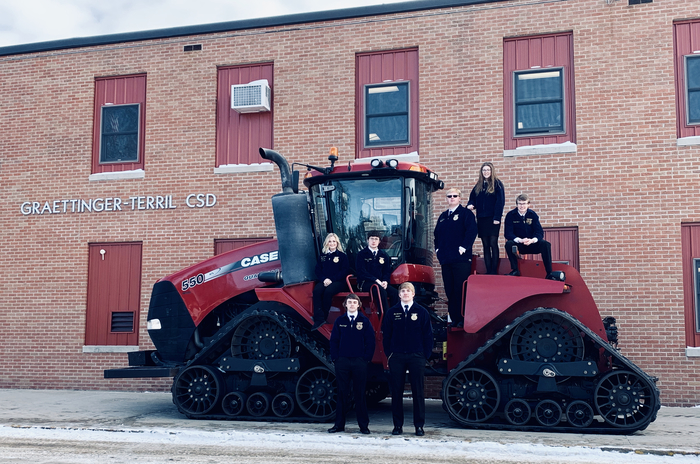 Freshman Geography students integrating technology into their lessons by engaging in a Quizlet Live review game. Students said, "We are paired in groups which can help you decide which is the best answer." and, "Over time the more answers we get right the easier it gets."
8th graders in Mrs. Jungers' ELA class are learning about human intelligence. Students learned about the Rorschach test which allows individuals to look at ink blots and discuss what they see. The students made their own and shared their theories on what images they saw.

Check out the GTRA Music Boosters' cake auction during tonight's varsity basketball games in Graettinger. Be sure you have the winning bid to take home some of these delicious cakes, cookies, or other goodies! The winners will be announced during half time of the boys' varsity game. Thank you for your support of GTRA Music Boosters!

AFNR (Ag, Food, and Natural Resources) students worked to complete a pH lab today. Students tested various substances for acidity, then neutralized the substances using Sodium Hydroxide and Hydrochloric Acid accordingly.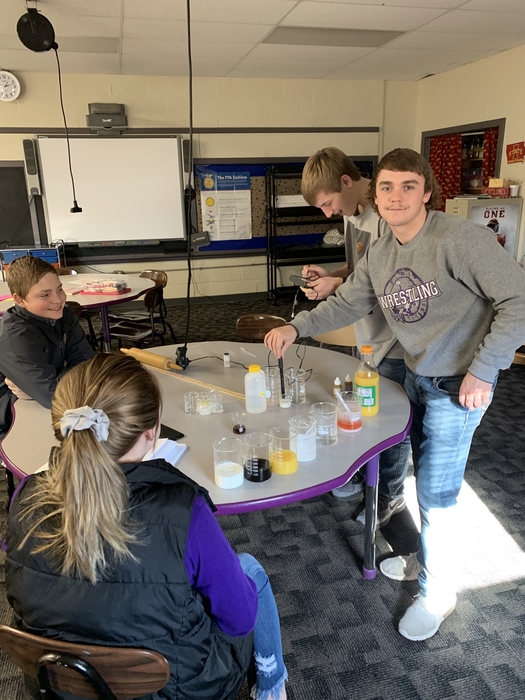 Today in our Unified Science class, students played a game called "Oh, Deer!" in which "deer" competed for "resources" to demonstrate population dynamics.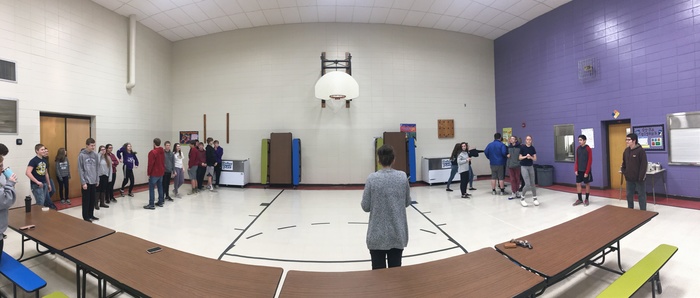 The GTRA Wrestling meet tonight with Manson has been cancelled due to illnesses.

On Tuesday the middle school Show choir performed and on Wednesday it was the High School Jazz Choirs turn to perform. Here are some pictures from their performance at the ILCC Jazz/Show Choir Festival. Way to represent G-T/R-A!!